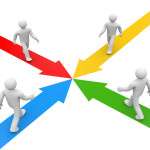 Many people are fascinated by the fast paced and lucrative world of recruitment and are looking for a career where they can earn their true worth.  Industry options can include internal recruitment, agency recruitment or self employment working from home.  Make sure you put yourself ahead of other candidates competing for those prized recruitment roles by completing the 'Train the Recruiter" workshop.
At Talent Factory Training we are pleased to offer the 'Train the Recruiter' course for those wishing to make a career within the recruitment industry.
Two facts about the industry:
Many people who enter recruitment will leave the industry within six months due to poor training.
It is difficult to convince a recruiting company to hire you if you have no previous training or experience.
Many recruitment companies employ under twenty people, so there isn't always the time and resources available to offer new recruiters the training they need to be successful in what is a challenging and fun industry – and where you certainly reap the financial rewards for your efforts.
In our time in recruitment, we have so often seen new recruiters learn in a 'baptism by fire' situation, where they are given minimal training and tend to learn through their mistakes more than by design.  This can leave new recruiters feeling somewhat frustrated and over-awed', and left wondering if they have made the right decision.
If only they had received that all important thorough training from the start.
By attending our course, you will enter the industry with the confidence and knowledge to succeed from Day One. You will understand the all important aspects that make a successful recruiter, how the industry 'works' and will be fully versed in the full 'end to end' recruitment process. So you'll 'hit the ground running' and be able to 'fill and bill' roles sooner, thereby generating fees for your new company (and commission for yourself) many weeks ahead of other new starters.
And of course your future employer will see that you have invested in your future career and that you would be joining them, having already undertaken that all important initial recruitment training.
Train the Recruiter is also available to companies – in house or external.  Please contact for details.