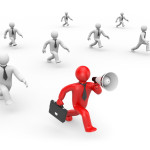 Our "Let's Get Started" course is designed for teens and young adults to make sure that they have the best possible start in the employment arena and are successful when searching for those coveted roles.
It is always a daunting prospect looking for that first role. After all, the work place is a totally new environment and quite different to that of education.
Also, with little or no previous work experience, as recruiters we know how vitally important it is that candidates present well throughout the entire recruitment process: from initially knowing where to job search through to job offer, thereby confirming to potential employees that they are the ideal person for the role.
Put simply, they must be 100% "work ready" to be able to complete in today's unforgiving employment arena.
Without all the experience of looking for a job that older people have, it's difficult to even know where to start, how to job search effectively or even where to job search. Then we have the prospect of having to write your own CV – very difficult when you have little or no work history………
One thing is for sure. Before you start looking for any job, you have to be 'work ready' in every respect to compete in today's market. .
'Work ready' means having a great CV, being able to communicate effectively with 'would be' employers, knowing how to dress for an interview situation, knowing what to say and ask at interview ………………. and that's just the start!
Whatever the circumstances, it is vital that you are prepared to be 'the best you can be' when competing with others for those prized roles.
The course includes:
• Entering today's workforce
• The meaning of 'work ready'
• Attitude, attributes and social skills
• What makes the ideal candidate?
• Communication skills – voice, body language, listening, written and verbal
• Dressing to impress for interview
• How to successfully job search
• Preparing your CV and cover letter
• Telephone screen techniques
• Interviewing skills
• Behavioural questioning
• Your referees
• Accepting a job offer
• Social media
One full-day and two part-day course options available